Although we have not had any snow yet, it has been very cold lately. Even if the snow hasn't yet arrived, the trees get covered with a frosty layer when temperatures fall down to +2/-2° C, but they look very nice. I went for a short walk this afternoon with the camera to see what I could find. Just across the main road the open country starts. I decided to go direction castle and take a turn at the top to get to the hilly bit where you had a good view. On the way up the hill on the lefthand side there is a riding school. They have quite a few horses there in the stables, or outside in the paddock (or whatever it is called).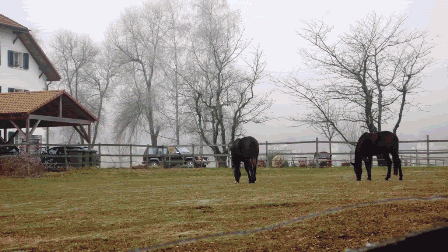 I saw that one of the horses seemed to have its Winter coat on so went a bit closer to have a look. I don't know whether she saw me or not, but did a nice little show for my camera, rolling on the ground and laying on her back. Eventually she stood up and walked over to me quite close. I cannot ride and can assure that the only horses I ever saw when I was younger was the ones that pulled the brewery carts, or those that a policeman sat on. At the mounted guards at Buckingham palace we also had a few. I did have a riding lesson once, but that was enough. I didn't realise that the horses breathed and were warm, I got a bit nervous sitting on its back and slowly dismounted (slowly because I got stuck up on its back and Mr. Swiss had to help me down). In any case I was glad that a fence separated me from the horse, especially as it sort of started breathing deeply through its nose. I wasn't sure if it wanted to be my friend or was getting ready for the attack.





I eventually arrived at the top of the hill where the castle was. This time everything seemed to have a white sugary coating in the grounds. I was glad that I was wrapped up in a nice long warm coat. I then took a turn to the right and had a walk down the side patch of the castle. I took quite a few photos, so have made a photostream to look at. I just thought they look better in a larger size, that the smaller version I have to put on the blogs.
There were not many people about, just one or two families taking a walk. I remember when our kids were smaller, we would often go for a walk on a Winter's afternoon to get out in the fresh air. Those days have gone. This afternoon my oldest son preferred to listen to his pop music at home, and the other had disappeared to one of the near bye towns visiting the billiard hall. Mr. Swiss was at home playing with his computer. I decided it was now also time for me to go home again. Gradually I was loosing the feeling in my hands and feet and my nose was turning red (a sure sign that I was feeling the cold). I walked back through the castle and noticed that the fountain had also decided to freeze, although it was still dripping slowly.