I was planning a nice quiet Saturday afternoon at home today. No stress, just me, the computer, a good book and 3 cats and Mr. Swiss. Mr. Swiss went hunting alone this morning for the week-end shopping and I was busy with my female hobbies - cleaning windows, floors, cooking - the usual enjoyable things we women love to do. Then I suddenly realised there are only a few shopping days left to Christmas. I had to deduct the days when I work, and I still had very few (actually none at all) presents for my loved ones. Ok, the sons are easily dealt with, after all money can buy everything. I decided I had to go into town this afternoon.

It was cold, no it wasn't cold, it was bl***y cold. I did not want to use the car, as I always have to have two empty spaces next to each other when I want to park it in the parking house (big car) so I decided to walk. We have a local train, but it only runs twice in the hour. As it only takes 10-15 minutes to town I decided it was the best solution. I forgot to mention there was a very cold wind as well. I wrapped myself and started on my marathon. I took the camera with me and decided to see if there was anything worth taking a photo of. The photo above is again of our local castle Waldegg with the first chain of the Jura mountains in the background. There are seven chains in all and if you go over all of them you are eventually on the Swiss borders to France and German. As you can see we have no snow up to now in the lowlands, but up in the Jura they had a fair share last week. As long as it stays up there I am not bothered.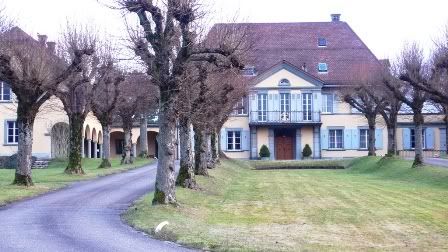 On the way I passed our local villa. The owner died a few years back (a rich business man who kept all our taxes nice and low in the village) and his wife has also now died. Although his son inherited it all (there were a few other villas and houses also), It was empty for some time and has now been rented out to another rich business man. When I think of what I have to clean each day, then I think I am glad I didn't inherit or rent a villa, although I am sure my cats would have loved it.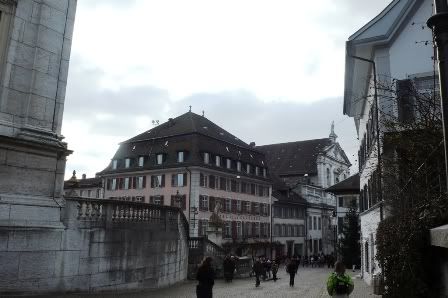 Eventually I reached our town of Solothurn. There were not so many shoppers as usual, but I think it was so cold that they either didn't go into town or were in the various shops and restaurants. My first stop was to get some Christmas cards. I had already sent the cards off to far and distant lands, but forgot that there are some people living a bit nearer, like in Europe, so wandered into the local store. I then met someone I hadn't seen for at least six years, so after a long conversation we parted, decided that when I was retired we must meet some time (in 3 years?) and I bought my Christmas cards. Admittedly the 3 cards I bought were for 3 special people in my life, but at five francs the card I found it a bit steep. However, it is Christmas and good will and all that, so bought them.


For my next task, I had to cross over our river Aare as the shop I wanted to go to was on the other side. Walking across an open footbridge in the freezing cold was not exactly refreshing and I was glad to get to the other side. A photo stop was made - the ripples on the water are genuine and not something done in photoshop.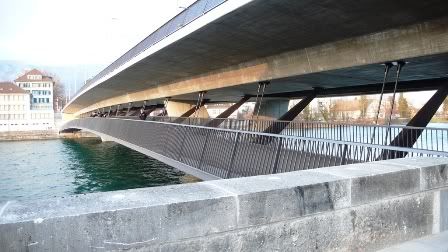 After finishing my shopping I was wondering whether to get the train back home or walk. As I just noticed the train was departing, I decided there wasn't a big difference in waiting 30 minutes for the next one or walking home, so I took our new footbridge back over the river and walked home.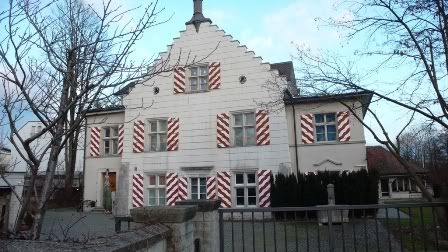 I passed this house on the way home. It was fairly neglected, until it was bought by someone and renovated. I think it was turned into a sort of appartment house. Anyhow it is a signal that I am on my way home. I eventually got home, tired, not exactly happy, and freezing cold. One of my cats was sitting outside to welcome me home.