Well I suppose everyone has their local castle somewhere - whether it's a ruin or something worth looking at. Our local Castle is called Castle Waldegg, situated on a hill in our village. It orginally belonged to the family Besenval. Many years ago the French ambassador to Switzerland had his seat in the local town of Solothurn, and during the Summer he moved out and used this castle. Once a year towards Christmas they use part of the castle, in this case the barn, to have an exhibition of Christmas presents, made by craftsmen. Above you can see the entrance to the Exhibition. I went along (with my camera of course) to have a look around. The castle also had an open day, but my report on that follows later.




As you can see from the photos there are many different types of craftsmanship to be seen. The goods are naturally for sale, and the prices are not cheap, but taking into consideration it is all handwork, then I suppose it is justified.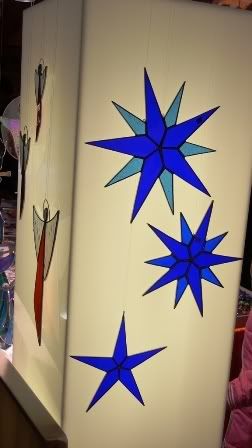 I found this glass lamp particularly attractive, although somehow I don't think it would fit in my living room, especially with three cats around waiting to see if it is unbreakable or not.




This is something typically Swiss, silhouette work done by cutting the black paper with small special scissors in patterns. Sometimes the paper is folded to create a mirror effect and sometimes just portraits are cut out. You can even have classes to learn how to do it. Actually I would love to learn, but just don't have the time and patience.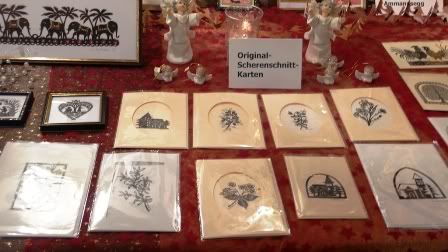 You can even make greetings cards using this technique.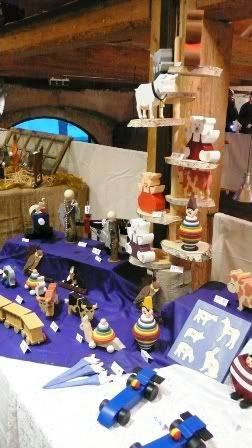 The exhibition/shopping opportunity is open to the public, children as well as adults, so what would it be without a corner for the children. The toys are all handmade of wood and painted. I remember when my boys were small one of their favourite toys was a wooden train or wooden jigsaw puzzles. I quite enjoyed my visit and there was also a small coffee bar organised for those that wanted to sit down and enjoy the atmosphere. As the castle is only a five minute walk from where I live I decided to go home afterwards.

My favour piece was the following. I wonder how many hours the artist spent cutting that one out.