Christmas is coming and so is the stress at work, although sometimes I have to laugh at the situations that appear in the daily routine.

This afternoon there was a loud noise in the office, reminded me of home, until I noticed that it was a vacuum cleaner being used by the mechanic who was repairing one of the office printers and had brought his own portable vacuum cleaner with him to do the job properly. In Switzerland there is always a lot of cleaning going on, and naturally if a Swiss mechanic does the job properly he has to make sure that everything is clean and tidy when he is finished. We women found it quite amusing – the mechanic was doing the job and was naturally being watched by one of our co-workers from the responsible department. I suppose it always needs two to make sure it's done properly. One of the girls found it was worth a photo, so I didn't need being invited twice, and here is the result.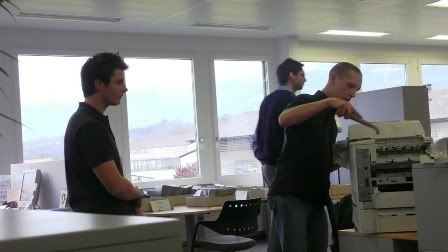 Yesterday an office friend arrived with her dog. Mind you not just a dog, but a big dog. My colleague actually lives in the next village down the road to me and at the moment her house is being renovated so she is staying with relations and naturally had to take the dog with her. I have known the dog, with the name of Taps, since he was a little dog. At that time she also brought him to work now and again where he had a quiet corner in the office and everyone patted his head and spoilt him. Even when Taps was young he was always walking around with a rag doll in his mouth and woe betide anyone that wanted to take it away from him. Anyhow going back to the present day, Taps was again in the office yesterday, the difference being that many years have passed and he is no longer the sweet little doggy, but now a big dog. Of course when he arrived we all wanted to say hello dog, but we didn't have to greet him he greeted us in his canine way. Now Taps is a very big dog, lovable but big. He still carries his toy is his mouth, but the toy also seems to have grown bigger with the years.



One of the other girls decided she would take a walk with Taps through the office on the lead, which was quite funny. You suddenly saw a large dog taking my colleague for a walk. She was sort of hanging onto the lead and Taps was showing her which way he wanted to go. Taps also seems to get tired very quickly and it did seem that most of the time he was sleeping. His owner had brought his blanket with her, but Taps preferred to sleep on the office carpet.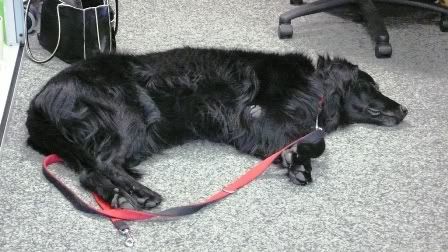 Otherwise it was a tough long day, but the small events in the office do help to get the day behind you.