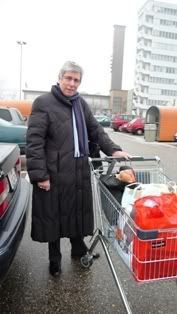 I do look pleased with myself don't I. The photo was taken this morning after we had been in the supermarket behind me. The shelves were once again filled with food meaning that someone somewhere had to work after Christmas to ensure that our life could continue with no interruptions. Everything being a special offer. The photo shows a joice of ham which can be cooked in the bag (a sort of European speciality at Christmas and New Year), the advantage being that you can buy it a couple of weeks before you actually eat it. Sort of convenience food. Did I buy one - of course, that will do for lunch over the New Year.




Not only did I survive Christmas but am ready to go for the New Year, basically because I know at New Year I will be at home, sending everyone else to celebrate somewhere. Christmas was quiet. We barricaded ourselves indoors, at least me and Mr. Swiss, and as we had enough provisions we managed to survive quite well. . We had our main celebration on Christmas Eve with giving presents and good food, and afterwards Mr. Swiss and I were two of the millions watching East Enders on tv which made the programme record breaking in England. Even our sons were at home on Christmas Eve. On the 25th there was a party somewhere in town so we were then alone. I had to think back to my earlier days in the East End of London when we celebrated Christmas.

The family would meet at my Aunts house in Dagenham, as that was the biggest house of all of us and there was plenty of sleeping room. As busses and trains stopped at four in the afternoon, we had a 30 minute walk down to my aunts house from the underground station. No problem, there was always a cup of tea waiting when we arrived. I remember my mum and my aunts preparing the food in the kitchen. That was usually cold meat, cheese, bread and butter, and some salad. We kids (me and my 4 cousins all about the same age) used to look forward to "afters" (desert these days). A sort of jelly base with fruit and custard in a little wax form. The aunts and uncles would wash everything down with cups and cups of tea - we kids had our tizer (who remembers that?) and lemonade. That was the serious part of the Christmas evening.

Afterwards the merry stuff started. Grandad sat in the chair in the corner with his glass of whisky, as sort of chieften presiding over the clan. We kids would disappear in another room and had our own grammophone where we could listen to records one after the other (78 rpm naturally with sort of throw away needles which would last for ten records). The "grown-ups" would have their own party going, which we joined when things got boring. My mum and my aunt would lead the fun with "knees up muvver brown" and I had two uncles who always did a perfect impersination of Bud Flanagan and Chesney Allen singing "Underneath the Arches". When things got serious my aunt was called upon to give her rendering of "My yiddisher mama". We were not jewish, but for some reason it was my aunt's favourite song. Nearly forgot, we also managed a "hokey kokey" as well.

About midnight we kids would disappear into bed, not without having some sausage rolls first of all, which one of my aunts always had ready as an in between food. Of course there were nuts in abundance to eat. Walnuts, Brazil nuts (almost disappeared), hazelnuts and almonds. The white plastic tree with the tinsel was in the corner and had real electric lights. Sleeping arrangements - you slept where there was room. This meant that I shared the bed with my mum and my aunt (my aunt was the heaviest of all aunts - it was a wonder I survived) and my cousin. My other aunts and cousins also found an empty bed and slept four to a bed. The men all slept on floor space or armchairs (except for grandad of course, he had his own room).

The next morning the female brigade of mum and aunts were busy making breakfast for all. As soon as you sat down a plate of bacon, sausages and eggs was put in front of your. Afterwards we left one by one going home again. I now have only one aunt and my dad still alive and Christmas is no longer as it was. I have contact with two of my cousins when I go over to England. Another one is in New Zealand, so thanks to e-mail we hear from each other once a year and another has sort of disappeared, contact has been lost over the years.

So getting back to the present day I was out again stocking up on food again. It was a very cold day and I was glad to get back home. Even my frog in the garden looked like he would be pleased when Spring arrived again.




It was very cold over Christmas, no big snow falls, but frozen. Son No. 2 managed to fall over yesterday on the ice on the way home from town and he had only had a coffee somewhere. This morning at the supermarket the parking space was also frozen over, and being accident prone I had to be very careful. So how did I spend the first afternoon after Christmas. What all good housewives do - I did some cleaning. I won't be sad when the New Year arrives, at least I can forget about the housework and take it easy again. Now where did I put my book?