Last Saturday morning we did our usual shopping in the supermarket and then had to go into town. I had some business to deal with as the boss of our first aid section in the village has a market stand where she sells some of the products of her farm and I am the accountant of the group and had to give her some documents. Hubby was busy in the local bookshop so we split up. After I had finished with my stuff I walked back to the parking house where we arranged to meet. On the way I took my camera out and started capturing a few Christmassy things in town. The marrows are actually a remainder of Autumn, but can still be bought at the market in all sizes and shapes.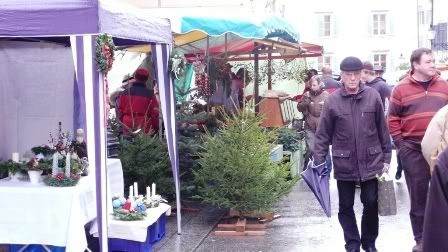 Christmas trees and candles had also found their place on the Saturday morning market. Generally the market is just for the sale of groceries and farm produce, but towards Christmas it gets full of the spirit of the season.

For example the mistletoe had been gathered and was waiting for customers. It grows quite a lot in this area. The actual plant is a parasite and grows on larger trees. In Autumn you often see bunches of it on the top branches of the trees that have already lost their leaves.


Would anyone like an angel? We seem to have plenty in Switzerland, at all different prices, but not genuine ones. If you are willing to pay a bit more, you can even get them with colourful wings.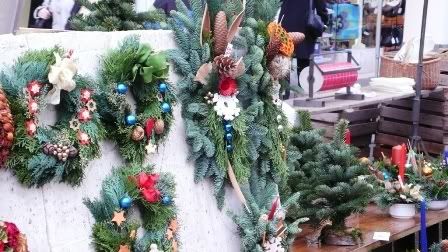 It has become fashion to hang a Christmas wreath on the doors. We have a smaller one hanging on our door at the moment. It usually spends the year in the cellar only to be used at Christmas.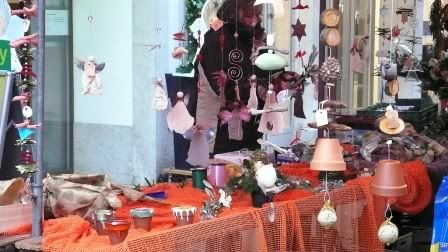 Even flower pots seem to have their use at Christmas.

Candles are used a lot at Christmas here. It is custom to put four candles of the same colour together, decorated with fir tree branches or in another sort of arrangement as the four candles above. On each Sunday of the advent (last Sunday was the 2nd Advent Sunday), one candle more is lighted until you get to the Christmas week when all four candles are burning at once. Since the cats are around we don't do it so much any more, you never know what they might get up to.

Eventually I quickly put my camera away and hurried onto the car park and guess what, Mr. Swiss was already waiting for me, which didn't surprise me.