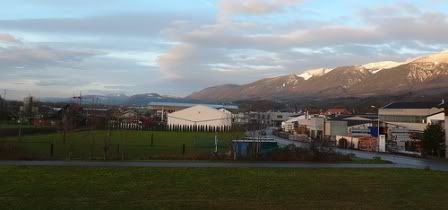 Looks quite nice doesn't it, although quite a bit of industry in front of the snow capped mountains of the Jura chain. Unfortunately I don't really appreciate it so much as I should as it is the view from my office window, taken last year in November if I remember rightly. This year we have not had any snow yet, but I think it is on its way. The big white building in the middle is a place where you can take electric stuff you don't need any more. Many a computer has found its last resting place in the buliding. To the extreme left there are the railway lines on the main connection Geneva-Zürich. So why am I showing this wonderful industrial landscape somewhere in Switzerland.

Basically I won't miss it for the next two weeks when I am on holiday. Today was my last day in the office and I am not sorry. Since the Summer holiday it's been non-stop work, with a few odd days for the religious holidays. I managed to escape this evening quite easily, everyone wishing me a happy holiday - I mean those that were still in the office. These days I can rarely escape before five o'clock.

This evening I spent some time on paying a few bills and bringing my first aid group web site up to date. Now why am I tying so many loose ends. Well that's the next part of the story. I am flying to London on Friday for a few days to see my dad. I only see him once a year, although I telephone quite a bit (thank goodness for Skype). He is now 92 years old, but still has his own household. His girlfriend lives opposite - she is 93. Must be the nice fresh Dagenham air that keeps everyone so healthy. Dagenham is not exactly the main tourist area of London, but its like a third coming home for me. My first home was in Bethnal Green, just a little to the East of the City of London, my second home is Switzerland where I have lived longest, but as all the family were moved out of London after the war because of the slum clearance, they all eventually found their new homes in Essex. I was nearly an Essex girl, but not quite, because I moved out before my mum and dad moved.

Tomorrow will be the day where I pack my case, start searching for the adapter I have somewhere to be able to connect my electric stuff into the English system. English plugs seem to be square, ours are round. Anyhow I have to charge my telephone and my camera - now where did I put that adapter. I also have to change my Swiss Francs for English pounds. We Swiss don't really care if England still has their pounds, after all we still have our Swiss Francs. Who needs a Euro. I have three requests from colleagues to bring back some English tea (well Indian tea - Assam seems to be popular here) and I will have to get my Christmas Pudding from Marks and Spencers - hope they still have them. I used to bring boxes of Cadbury's milk flakes back with me - my favourite English chocolate (who says the Swiss have the best???), but since being a bit too sweet myself I don't eat milk chocolate any more. And of couse, I mustn't forget the English sausages. Although my Swiss family think there is nothing better than a Swiss Sausage, I must disagree. An Irish pork sausage together with HP sauce beats everything.

Well this blog is really just the ramblings of an exile Londoner, but now and again you do miss the old country. Just remembered I must get my train ticket tomorrow Solothurn-Zürich Airport. We don't bother with the car. It's not worth it. Mr. Swiss takes me to the station, a five minute drive, and I get the train. It's a one and a half journey, but the train is connected to the airport, so London here I come. I don't know whether I will be available for a blog tomorrow, if not see you all again next week some time.