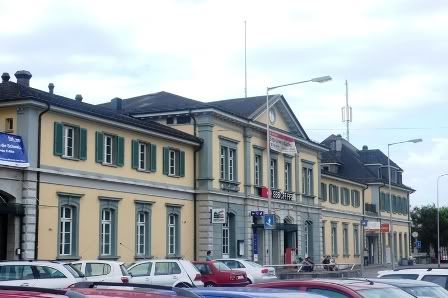 I think I am getting a bit too old for this travelling thing. They only let me out of the country once a year so I am just not used to it any more. This morning was spent with some last minute shopping. I didn't find my adapter after all for plugging my telephone and camera charger in in England, but our local Supermarket had them. Mr. Swiss said they are the right ones as the prongs are square and not round like ours. So that problem was dealt with. I then had to go to the bank to stock up on English money. I even found a purse at home full of English coins, including some pound coins, so that came in handy. In my days in England we had pound notes, but then it was also 20 Swiss Francs to the pound and not four and a half Francs as today.

The afternoon was spent with preparations such as loading up my mobile telephone, getting the camera ready and fit and looking for passports and identity cards. Then I got through a pile of ironing from the washing I did yesterday evening. I have very independent men at home who know how the machines work, but we woman have a feeling that we have to do it. Arn't we silly. This afternoon I got the case packed. I have still got a lot of room in it for the shopping I will do in London. The last time I went I brought about 10 books back with me.

The final triumph was when I said I would get my train ticket return to Zürich Airport today at the station (see picture above - our local station). Mr. Swiss said you can get that over the computer. Now that was fun. I found the web site and had to register. I attempted to register 3 times, and it was third time lucky. I have a half day pass for Swiss trains. That means I only pay half price anywhere I go. The pass costs 333 Swiss Francs for 3 years, but Swiss trains are Rolls Royces on train lines, so you really get the benefit of the pass after two train journeys. I now have a piece of paper with my name and journey on it to be used as a train ticket tomorrow. Doesn't the world change. Even my flight ticket is just a piece of paper. I remember the little booklets we used to have. So tomorrow morning I will wave goodbye to my 3 cats and Mr. Swiss as well and I am bound for London until next week on Wednesday.