Naturally I spent Sunday morning still recovering from the stress of Saturday afternoon shopping. My friend had invited us to dinner and we were picked up by her friend as she was busy preparing the Sunday dinner. It was armistice Sunday and although I usually go to London in November, I was a bit later this year so was actually there on the day.
My friend had a DVD of the landings in Italy from the Second World War, so my dad was particularly interested. The first scenes were of the arrival of the allied troops in Sicily. This always particularly fascinated my dad. I think one of my dad's favourite subjects on educating his daughter was to tell her about Chicago in the 20's and prohibition. I was probably one of the only girls in my class at school that knew the history of Chicago at this time. Thinking about it, I think the only films I saw at the cinema with my dad alone were The Valachi Papers and the St. Valentine's Day Murders - my mum didn't want to come. Anyhow dad had never forgotton that the allies were only allowed into Sicily because Lucky Luciano had put a good word in with the Mafia to let them in. Whether that was really true I don't know, but from somewhere he got the story. Anyhow after watching the landings in Sicily, the film went on to show the landings on the South West coast. This was my dad's thing, as he landed in Salerno on the amphibia craft. I didn't see my dad in the film, but he was probably unlucky not to be filmed when he landed. In any case the 3 golden oldies were very interested in the film and in the meanwhile I could have a nice conversation with my friend.
At one point we disappeared to the computer as I had about 300 mails to delete on my Yahoo mailbox from a cat organisation that are always writing mails which I don't read. I am also administrator on a cat site in America, so I had a look in to see how we were all getting on. I then had to catch up on
Mr. Mad's cat stories
which are really quite suspenseful and usually appear at least once a day, and last but not least, have a look to see if my blogs still existed. Well, the do at Multiply, but with Yahoodido you never know.
At some time we had had our food and it was evening, so a light tea was served. My friend's dog was happy to see so many visitors and he was spoilt thoroughly. We left during the evening and I had made arrangements to go out for the day on Monday with my friend. She is now a senior citizen and has time on her hands. My dad and his girlfriend were at the senior citizens club on Monday playing Bingo, so it was no problem.
I hadn't been feeling 100% before I went to England and although I was ok, I was suffering from my Meniere and my blood pressure wasn't exactly as high as it should be. The result was that when my friend picked me up on Monday morning with the idea to go to Rye on the English South Coast, we only managed part of the way on the motorway and had to cut the journey short. The next biggest town was Tunbridge Wells, so we spent a few hours in this town. I managed to recover ok after getting into the fresh air and found it to be a very pretty town. There are a few sites on the Internet about the town, but one part is quite Georgian style called The Pantiles.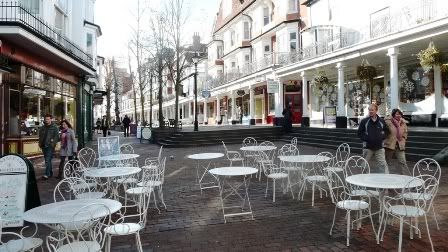 They also seemed to have had quite a celebration on Armistice Day and had a very nice memorial in the centre of the town where many wreaths had been laid. I find it wonderful that the memories of the last World War are still upheld in England, especially as in Switzerland very little is done in this respect. They were probably too busy guarding their own boarders. I know my father-in-law spent 5 years on the Swiss boarders. I actually took two photos of the war memorial and had to piece them together, not perfect, but more or less ok.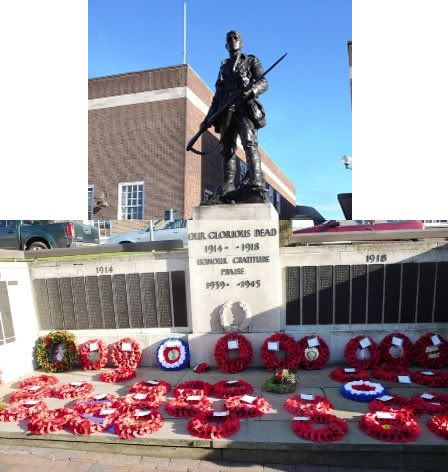 I was surprised that the town had a rather large and modern shopping area. As it was Monday, it was fairly normal, and I made the most of the occasion to buy some more books to take back with me. Here is another photo of a small street in Tundbridge Wells. It is one of those places that I had often passed through on various journeys to the coast when I lived in England, but never actually stopped there.





One of the reasons why we were in this part of the country (Kent) was that going towards West of Tunbridge Wells we arrived at Uckfield. Not exactly the most romantic part of East Sussex but where the agents for the company I work for in Switzerland were situated. I did mention that I might pay a quick visit, but could not say when. However, we travelled the 10 miles across country and I eventually did make my visit. Although I had met two of their people personally when they once visited our company in Switzerland I only knew the others by telephone. I was giving a very friendly welcome, lots of hugs and lovely to see you, and after speaking to the people for the last 20 years I actually met them in person. Naturally lots of photos taken, but they remain in my private collection.

Eventually we made our way back to the Far Eastern part of London, Ford country. I was actually happy to get back to my dad, as on the way home I again felt out of sorts. In any case I had a nice day. Telling of my experiences on my London holiday, I feel like Jimmy Stewart in the film Mr. Hobbs Takes a Vacation .

And what did I do on Tuesday - it was my last day. To be continued.