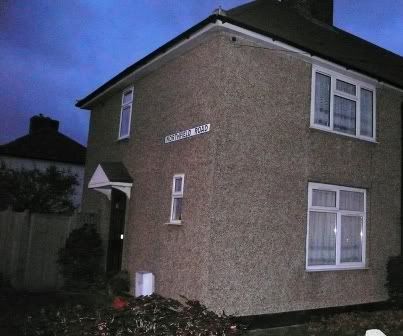 I decided to take it easy on my day before last in England at my dad's place. No stress and no shopping. I spent the morning mostly on the telephone. Mr. Swiss called me to see how I was doing. Everything seemed to be ok on the other side of the English Channel, so no worries. Dad went out on a short trip for food and to the newsagents to get the daily newspaper. I decided to take a trip around the near lying parts of Dagenham in the afternoon. Armed with my camera I set out for a walk down the Heathway to the local shopping centre. Since they got rid of Sainsburys in the Heathway, there are not really any good shops for food any more. My dad always takes a bus in the other direction where there used to be a pub called The Merry Fiddlers. This was not just a pub, but a landmark in the area, and I believe there were many sad faces when it was eventually demolished. My late aunt and her husband lived near by, as well as a couple of cousins.

The Merry Fiddlers pub has now been replaced by a large supermarket called Morrisons. My dad often goes there for his shopping as it is only a five minute bus ride. Last year when I made my visit, I also went with him, but this year I decided to stay at home. Things do get a bit confusing when I go shopping for food with my dad. I never find what I am looking for and he knows what he wants. There is a roundabout near by called The Chequers (never did find out why this name – probably also named after a pub) but it is all part of the Dagenham landmarks.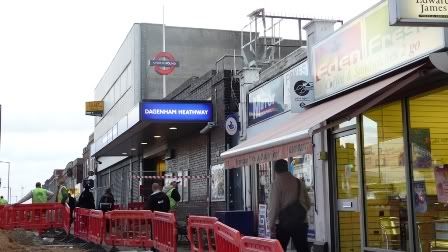 As said, my walk went completely in the opposite direction towards the Ford car factory. It took at least an hour for me to get so far, but it was interesting all the same. I walked past rows of houses all almost looking alike. It is only thanks to the devious imagination of the inhabitants of the houses, that there were differences – different curtains and different front gardens. I noticed a few houses in between had "To be sold" signs on them, or "Just sold". I found myself imagining how it would be if I bought a house in the area, but decided it would not be such a good idea. I would have to learn how to deal with English money, start dealing with English weights and measures and learn how to drive a car steering on the wrong side of the road.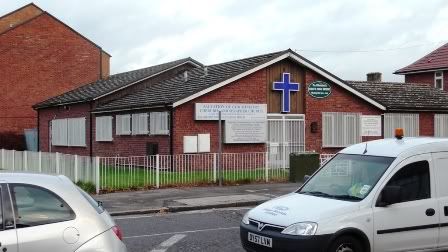 On the way down the road I also passed a church, which looked more like a prefabricated house. My dad told me that it was not Church of England but a sort of non segregational church, more in the sense of belonging to our Caribbean immigrants, of which there were many in Dagenham. I found that London had sort of split itself up into various areas according to ethnic minorities. My old hunting grounds of Bethnal Green etc. seem to be mainly Bengali and Somali immigrants, with a large share of Bangla Desh. In the West of London there is a large Arab population. The Jewish population of Whitechapel, which moved in after the Huguenots left in the 19th century, seem to have disappeared long ago from this part of London. These are the things which I think I miss most of all, but the world goes on. When I moved into Switzerland, Italians were the largest population of immigrants and today it is people coming from Turkey and the East European countries.





To continue with my walk down Dagenham Heathway I eventually reached the end turning into a road known as Ripple Road. Actually I was attracted by windmill-like machines that were turning in the distance. I think they drive some sort of electric power, but really look a bit out of place in the area. The Ford main plant is at the end of the road, but how much Ford motors is still there I don't know. I did see a garage saying Dagenham motors, and many factory buildings, but I believe there is no longer a large production plant there, as in the days of my dad when he was younger, but more administration. A lot of the buildings had been turned into warehouses selling various house and building appliances.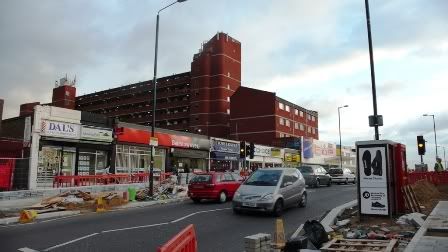 I eventually turned back and walk back to my dad's house. It was getting darker, but I was still able to take photos. One the way I noticed a bus stop on the other side of the street. There must have been at least 10 policemen standing there, controlling the waiting passengers, mostly schoolboys and girls in their teenage years. I tried to take a photo, but as I didn't want any police trouble it was difficult to photograph inconspicuously. I had taken a two hour walk, but I suppose healthwise it did me good to get out in the air (as my dad said).

The next day was the day of departure. I packed my ten books and other items I had bought on the evening before. I didn't have to leave until 11.30 when I was being picked up by my friend once again. My dad left 15 minutes earlier, as he had to accompany his girlfriend to the doctors. She wasn't so good at walking on her own any more. After all she is a year older than my dad (93). Actually it was better that my dad went, then we didn't have such prolonged farewells. My friend was soon there, and as it was not so much rush hour we reached London City Airport in about twenty minutes.


I checked in and went to the shopping area to use up the rest of my English money on the family (and myself of course). This time I managed to get a nice window seat behind the wing, which enabled me to make some nice photos. The young lady sitting next to me on the plane was a Yank and made it quite clear that she was there to read a book. I was quite happy about this as I too had a book to read. When I started taking photos she asked if I could stop as it was making her nervous. Although suddenly she decided it was ok, probably because I gave her one of my "if looks could kill" sort of glances. In any case the result of my photos can be seen. I arrived at Zürich on time and the train left for Solothurn five minutes after I reached the platform. I phoned Mr. Swiss from the train and he met me at the station. After I got home, I distributed the goodies, sorted out my case and did what all housewives do on such occasions – put the wash in the washing machine. So that was that for a year. Same time, same place next year perhaps.