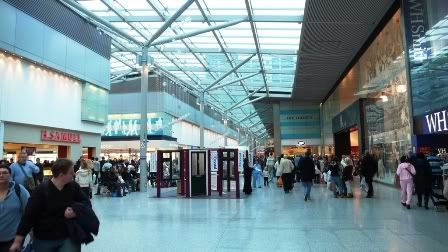 Now where was I. Ah, yes, an afternoon shopping trip to Romford. Armed with my one day bus ticket I was ready for all. After living in a small Swiss village for the last ten years, my days of shopping trips were restricted to our local market town of Solothurn. We have one department store and two big supermarkets. Otherwise shopping is restricted to small shops with cafés in between to relax and talk with friends or neighbours you may meet. Now and again at holiday time I might go to Bern or Zürich, but here again no big stress really as these places are usually populated a lot by tourists who are not really there for the shopping experience, but more to look around and take photos.

We boarded the bus quite safely in Dagenham Heathway and I was glad that dad can't really manage to go upstairs any more, as I don't think I could either. We just left the stair climbing to the younger generation. There do not seem to be any bus conductors any more - probably an extinct animal, and the driver does everything. I did miss the friendly voice of the conductor saying yes love, thanks love, and keeping an eye on things. Of course over the years on my visits to London I did notice that things are no longer "wot they used to be" - a shame really. My dad knew where to get out of the bus. This was not such an easy choice. As he said "our best bet (betting again?) is to wait till the bus goes round the back of the shopping centre. Then we don't have so far to walk". This proved to be a wise decision and we descended the bus in one piece and entered the chapel of shopping.

Unfortunately it was Saturday afternoon - I would have preferred Monday really. It seemed that complete Romford and Dagenham and all the areas in between had decided to go shopping. I was really only there for the "fun" and the only items on my shopping list were books. Waterstones always seem to profit from my visits to London. It suited my dad as well, as the shop is equipped with comfortable red leather armchairs for shoppers to relax in. My dad found himself a nice comfortable chair and I began my quest. Waterstones always have "3 for 2" which I find quite rewarding, although this time I found 5 books that suited my taste as the second "3 for 2" was not available. The next thing on the list was a new Andy Capp for Mr. Swiss. He liked the one I brought last year from British Home Stores and said he wouldn't mind a similar one in other colours. Luckily the cap department was near to the entrance, so we again managed to save some walking.

I then made my first mistake. I was looking for a neck scarf for myself to suit my blue coat, and made the suggestion to go to Debenhams - a very large department store. Dad said ok and led the way. On the way I decided to take a few interesting photos and guess what - I lost dad. He walked on and I didn't. As I didn't really have a clue in which direction Debenhams was, I had to search for about 5 minutes. 5 minutes is not really a long time, but it seems to be eternal when you are trapped with a few thousand Saturday afternoon shoppers all going in different directions. However all's well that ends well and I found the right exit towards Debenhams where my dad was standing in front of the entrance looking for his 60 year old daughter. We reunited and entered the shop (with a few thousand other shoppers). Now to be quite honest I am just not used to this sort of thing any more. Accessories seemed to be on the ground floor, or was it the first floor. Debenhams is the name of the shop, but the new fashion in England is to have shops within a shop. This means there must have been at least 20 shops in Debenhams distributed all over the place each selling their own selection.

Of course, what would a shopping trip be without calling in on Marks and Spencers. We had to go hunting for some food for the evening meal. This was not easy, at least not for me. Dad is happy with his cut white bread but I had a problem. Being diabetic (as some of us are in age) I was used to eating more whole wheat stuff and I do like a crusty bread. It seems that the crusty bread is no longer in existence in England, or at least at Marks and Spencers, and to save time and energy, it is all ready cut. Please understand, I am just not used to English bread any more. I eventually settled for a rather soft, blotting paper lookalike bread, but it was dark and the carbohydrate content matched to my needs. I was also looking for a particular type of tea for a colleague in Switzerland, when dad said they don't have tea in M & S, which seemed strange to me. A couple of days later I did buy the tea in M & S, and realised my dad just didn't buy tea in that shop, so for him they didn't sell it.

I was somehow longing for my quiet little country town somewhere in the depths of Switzerland and decided to call it a day. I think my dad was not so unhappy about that, so we made our way back to the bus stop for the home journey (tired but happy?). Luckily the bus was not very full so we had enough room to relax. We got home and Mr. Swiss called to see how I had spent the day. I told him we had been shopping and he seemed to have the feeling that I had thoroughly enjoyed myself as women "like that sort of thing". I spent the evening watching tv and falling asleep in the armchair. As my dad usually falls asleep in the armchair in the evening, this didn't bother him that we didn't exactly have a lively conversation.

The next day on Sunday we had our traditional invitation to my friend's house for Sunday lunch. This was always a nice occasion. My dad aged 92, his girlfriend aged 93 and my friend's mother aged 90 would also be there - is it the Dagenham-Romford air that keeps them all so healthy and fit? - I am sure it can't be the shopping trips they make and the bus journeys to get there.