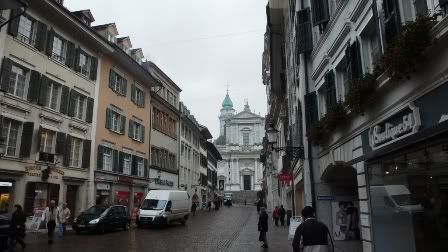 The town didn't exactly show itself from the bright side this morning. It was raining. The only reason I went was because Mr. Swiss (the gentleman on the right hand side standing on the pavement with the Andy Capp) and I had already bought our stuff in the near bye Supermarket and decided to have a coffee somewhere. I saw an interesting shop window where they sell designer stuff for the kitchen. Sort of a Christmas Biscuit show, although they were probably made out of plastic and not real - looked quite good.
When we got back home I started on the dinner. We had already had Rice and Pasta this week, so I decided to do something with potato, although I chose frozen croquettes as it would go a bit quicker. We had them with fried chicken and fennel. For those who don't know or have never eaten fennel, it's a vegetable that tastes a bit like aniseed. We quite like it, but it is not everyone's taste. See photo of fennel: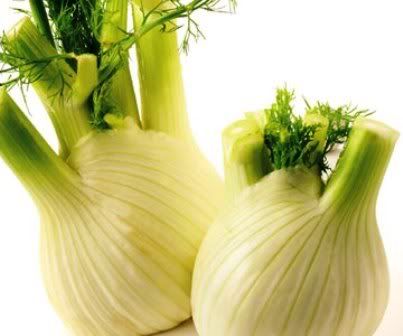 How do you cook it? Well first of all I cut it into smaller pieces and put it in a micro wave suitable dish (I cook some veg in the micros wave as I don't need any liquid which would contain the vitamines which would be washed out of the veg and I think the veg keeps its taste better).



I usually sprinkle it with salt and pepper and put the lid on and in the microwave for about 10 minutes. Afterwards I drain the small amount of liquid contained in the veg and put butter on it which melts. It is then ready to be served.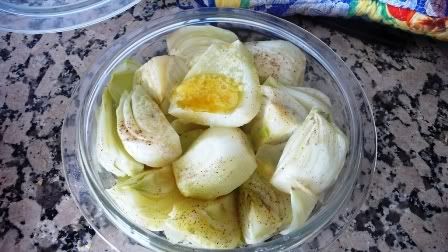 Now to the frozen croquettes. They come in a packet. I use the whole packet for all 3 of us. I put them frozen into the oven and bake them about 10 minutes on each side. No problem - they are then ready to eat.



Now for the chicken. We were 3 people, so I bought 3 chicken legs and 3 wings. I couldn't be bothered to prepared a complete chicken. I melted some butter in a frying pan (yes, I am a butter cook) and put the chicken in the pan.



I have not spiced the chicken yet, the reason being that as the chicken gets fried the spices do tend to also get fried and turn into a burnt layer on the chicken instead of developing their taste. I spice the chicken when it is just finishing off. I then put a lid on the pan to let is cook in its own juice.

I then spice the chicken - you are left to your own tast. Today I used a ready mixed special chicken spice, but if I wanted to compose something I would probably have used paprika with it. After about 20-30 minutes the chicken should be ready.



And then dinner is served. As we are all still alive and kicking, everything seemed to have been ok. We managed to clear our plates, althugh my son is always a thankful customer for anything that the others cannot manage to eat. As we say in Switzerland before a meal "En guete", or in French "Bon appetit".