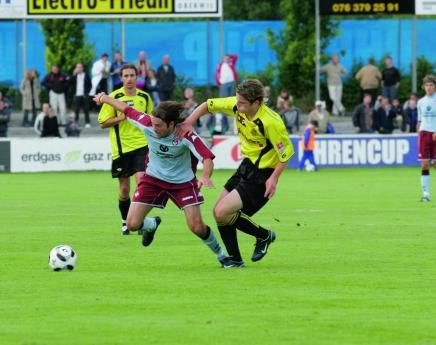 First of all I am not going to start blogging in German - my knowledge of the language is more lingual than written, but the Uhren Cup is the Uhren Cup and I could not find an English translation (Uhr = watch or clock). This takes place every year in the town of Grenchen in the Kanton of Solothurn which is about 10-15 minutes drive from where I live.


Grenchen had its high days before the time of Swatch and other electronic watches. It was the one of the centers of the watchmaking industry in Switzerland. Here is started and spread out towards the town of Biel and to the French parts of the Jura mountain chain. The watchmaking industry still exists, but mainly for special good quality watches. The mass production of electronic watches tended to destroy a lot of the tradition.


Grenchen also has quite a good football team (on Swiss standards) and for some unknown reason every year the Uhren cup is played on the pitch, which includes a few international teams. There stadium is known as Brühl. I will not go into too many details about why or how the cup is played as I found quite a good link for the Uhren Cup.
I think my blogging friend Ronnie may be interested in this as this year Celtic Glasgow have decided to join the party. I was speaking to my physiotherapist this week (whilst he was massaging my blogging shoulder) about this cup. He is the physiotherapist to one of the local football clubs so if you talk to him about football, you usually get quite a conversation. He reckons that there are some football clubs abroad that just like to come to Switzerland.


There was a report in the local newspaper of an interview between the Solothurn Zeitung (newspaper) and the director of the Uhren Cup - Sascha Ruefer, so I allowed myself to do a quick translation:


Mr. Ruefer, the negotiations with the 4th team for the Uhren cup seem to take quite a time. Why?
Ruefer: It was not easy, Celtic Glasgow play in another league as the teams that we have dealt with up to now
What was different?
Rufer:The Celtic representatives came to Switzerland three times for an inspection. They took photos of the turf from every angle possible, inspected every detail and eventually had a dossier about the stadium Brühl which formed the basis for their decision. The Celtic requirements are very detailed. The pitch must be in a perfect condition. If not, for instance, Celtic can withdraw at the last minute, according to the contract. I am a bit uneasy about this in case that Grenchen does not realise the seriousness of what can happen. I am sure that the town garden centre will do everything possible to help with the Uhren Cup.
Once again, why did it take such a time until the signing of the contract?
Rufer: The negotiations already began in November. Various representatives of the club were involved, game intermediaries as well as hotel representatives.
Celtic Glasgow, a dream?
Ruefer: We would have broken up negotiations with another club, but we remained. Such a chance does not present itself more than once in life. We must be aware of this in Grenchen.
And pay accordingly for it?
Ruefer: We have an uncle Scrooge in our team in the shape of our finance chief Roger Rossier. I often paid him a visit and tried to get some financial help from him, but he remained ice cold. The Uhren cup knows its financial limits. In comparison to other years we do not spend more money on the engagement of the club.
How is this possible?
Ruefer: We have a main sponsor that participates in the costs of the accomodation of Red Bull Salzburg. That helped us a lot.
What is the range of the amounts paid to the teams taking part in the Uhren cup?
Ruefer: We have decided to maintain silence in this aspect, this belongs to business. There is little sense in talking about amounts, as this is difficult to classify in public. I can only say we have remained within the budget in connection with our commitments.
What do Celtic bring?
Ruefer: The engagement of the Scottish masters brings more spectators. We had to insure the club by contract that per game 3000 tickets will be ready for them, which will be sold to their fans in Scotland.
How realistic is it that Celtic will sell the tickets?
Ruefer: I do not want to fool myself, but we will keep the seats free. A Celtic representative said that the stadium will be filled with Celtic fans. For these fans it is the best to be able to accompany their team. Many do not even get tickets for a home match. 2 to 3 years ago 6000 fans accompanied Celtic to a training match in Spain. But, as said, we wat to see how the ticket sales develop first of all.
That means that if someone wants a ticket for the Uhren cup they will have to hurry?
Ruefer: Who wants to have a seat has to get their ticket before it is too late.
How does the safety look?
Ruefer: We have had first contacts with the security people. A possibility is that we must create sectors and channel the spectator currents.
And what about accomodation?
Ruefer: First contacts in the area of Biel and Solothurn were positive. Grenchen are still behind in this connection. Contact with the tourist office has not been successful up to now, except for the remark that they are not a hotel reception. Here we are missing a certain support. A few hotels in Grenchen are intersted and naturally will be considered.


All other information can be found on the link above.