I was driving to work with my camera ready on the seat next to me in the car in case there was a stop at the traffic lights. Once again I was lucky and I had to wait just opposite from our local library. We are a small town but have a fairly large library. As the library is a sort of cultural middle point in a small market town, the surroundings are also fairly cultural. A small park, a well cared for building and of course a nice monument outside.

Most towns have monuments carved in stone depicting some sort of heroic historical figure, and so does our town, but not in front of the library. Someone decided to do something completely different. Here is the result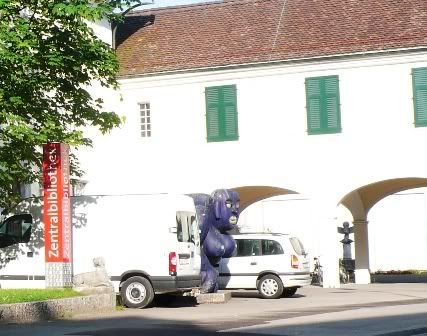 So now meet Berta. Unfortunately at the time of waiting in my car at the traffice lights, Berta was surrounded by a parked car and a van and had to look out between to see what was going on. Berta is the product of a local artist, Marianne Flück, and a very good product as far as I am concerned. I am not sure why the town decided on Berta, but at first she was sitting in one of our quaint old squares just near the county police centre a bit isolated from the goings on of our town. With time it was decided to move her and for a few years she guards the entrance of the local library. I just love her - perhaps she is astonished at the amount of traffic passing bye either on its way in the Geneva direction or going to the East to Zürich.

So lets do Berta credit and show her how she really looks in all her glory. She does not have any weight problems, a bit on the voluptuous side, but doesn't really care and even her colour is not a problem. In the cold Winters most of us go a bit blue. Who knows? perhaps she is look for Bert (now that would be interesting). Just to show her in her full beauty here is another photo. Also a photo from the car, not that I got that close, I just zoomed in a bit. As you can see the birds do not really leave her in peace, but it just does not seem to bother her very much.