Taps, my friends dog was back in the office yesterday. I made a short film (must remember not to talk so much when filming). He seems to be making himself at home slowly and quite enjoying himself. He has a nice sleep under the desk, gets lots of pats on the head from the girls in the office - he has moved in. He is now nine years old and is some sort of a retriever, but I am not so good on dog races. He has a new toy.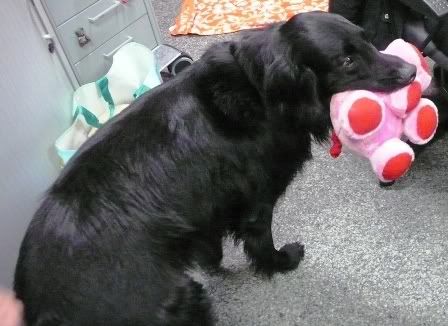 He also seemed to enjoy being photographed and let me take a close up of him. He definitely didn't disturb the work in the office. He is a very well behaved dog and most of the time was having a quiet lay down. He did attend one meeting, but didn't have much to say. It seemed that he was quite partial to croissants in the morning break.




Further to my blog yesterday in connection with the Swiss political situation, the story goes further today. The lady that became the candidate to replace the person that was no longer voted into the parliament, said she would give her decision this morning at eight o'clock whether she would accept or not. I had an appointment at the docs at 08.15 so I had just arrived at the parking house at 8.00 and was sitting in my car listening to the radio. Two cars away from me there was a young lady sitting in her car and I was sure she was doing the same. All's well that ends well, and the female candidate for the seat in our government said she would accept. I got out of my car at the same time as the other young lady who was sitting in her car and we both laughed and exchanged a few words on our satisfaction about the new member of the government. There is now quite a dispute about the whole thing in Switzerland.

Mr. Swiss did try to explain the details to me, but it is all so complicated. Someone did ask me how comes that you can just vote anyone into the government in Switzerland. Mr. Swiss said it is just part of the democracy that we are a free country and everything can be put to the vote. This makes the Swiss democracy a bit slow moving sometimes. If the government decide on something and you collect enough signatures against it then we all go voting to decided yes or no, with the result that we have 6 or 7 voting week-ends per year. Luckily we can also vote by post.

Of course to get popular enough to be voted into the government means you have to have a political party behind you, but it is possible and often happens in the annual government elections that always take place a couple of weeks before Christmas. If anyone is interested about what has happened now, you can read all about it on this link and click on the related stories, then you get the whole thing.

I am not very political really, I just know what I like and don't like. There is always a bit of excitement amongst us females in Switzerland when one gets voted into the government. Don't forget in Switzerland women only got the vote in 1971 and it is now the first time that 3 of the 7 members of the government are women.