On my way back from the Autumn fair on Sunday I had a look around in our local town of Solothurn. One of the oldest towns in Switzerland, so we have quite a few old monuments and churches. I am not a church goer, and am not even a member, but nevertheless I enjoy visiting churches as their architecture is sometimes very impressive. The photo shows the outside of the Jesuit church of Solothurn. Sort of built in between the shops and really not actually looking like a church. I noticed there was a small guided tour of tourists being carried out so thought I would have a look in and naturally take a few pictures.

I have spent a few evenings in the church. The benches are very uncomfortable and hard and I can assure that it was only because my youngest son was a member of the cathederal choir that I was visiting the church at their annual Christmas concert where they always performed Handels Christmas Oratorium. I like classical as well as modern music and so the music compensated for the uncomfortable seats. I think the Jesuits were used to a hard life in any case. Here are some pictures I took of the inside of the church.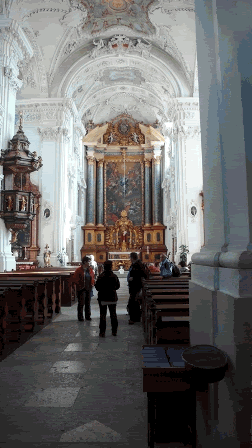 I had a look around to see if I could find some sort of historical words about the church, and found the following on the Internet. It was completely in German so I did a translation. My German is quite fluent, but I am not exactly an expert in architectonic or clerical German so I did my best. I hope it is understandable. As I mentioned earlier, the town of Solothurn is very old so most of the building of the churches was done a very long while ago:
"
The Jesuit church in the ambassador town of Solothurn is one of the most attractive barock buildings in Switzerland. The church was built from 1680 to 89. The plans for the church were probably developed by Brother Heinrich Mayer according to the models of the Austrian Vorarlberg master builders. The Italian style ornaments have herbal as well as figurative symbols. The high altar which was constructed in 1704 by Franz Carl Stauder and shows the Assumption (Maria Ascension) surrounded by columns. In the Gables there finely carved ornaments with the crest Hartmann. A magnificent tabernacle in Rokkoko style was donated by F.A.V. von Roll in 1756."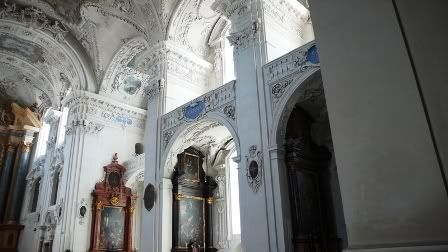 You may notice the town is called the "ambassador" town. This is because for many years it was the seat of the French ambassador in Switzerland. He had both his town and country "house" in Solothurn. When I left the Jesuit Church the sun was still shining. On my way out of town I passed our St. Urs cathederal so I didn't miss the opportunity of taking a photo of one of its fountains.