I cannot even ride an ordinary two wheel bycycle. I could never keep my balance on it, although I had no problem with three wheelers. On my last trip to the local Autumn Fair it was Sunday and they had a special Harley-Davidson day. I thought I might catch a glimpse of some Hell's Angels (yes we have them in Switzerland as well), but nothing like it, just normal Harley Davison fans with their bikes. One of my collegues at work came to mind. He is a Harley fan and I have often sent mails in english to the States for him ordering some sort of spare part or so. This year in Summer he realised his dream and went with his son to the States, where he spent his holiday travelling down the old Route 66 on his Harley.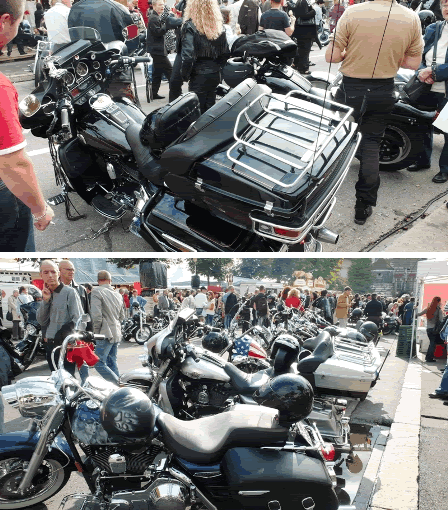 If there are any Harley fans out there, they would probably be able to tell a bit more about the bikes shown on the photos than I can. The big one at the top particularly impressed me. The owners of the bikes were standing next to their machines and one of the local radio reporters was broadcasting live from the show, interviewing the bikers.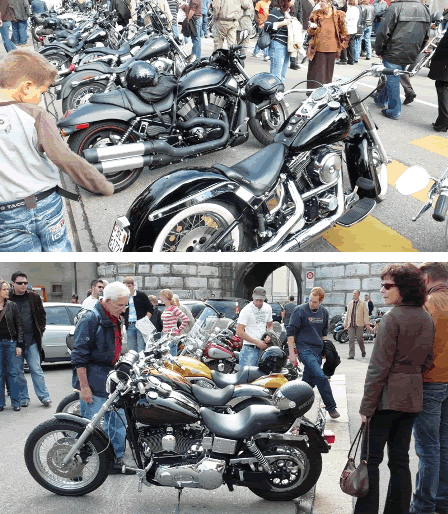 I usually have a lot to say, but this time it is a quiet blog. Just look at the photos and enjoy. On my walk home down the main road, the bikers were going home, so one after the other zoomed along making a very impressive noise. I think Swiss roads are probably quite useful for Harley riders. Lots of curves and mountains in between.