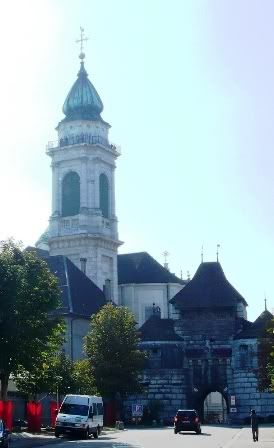 I am often to be found in the town of Solothurn on Saturday afternoon, just having a nose around in the shops and sometimes I even have visits to make. Last week I was in town to have my passport photo taken and this Saturday I had to go to the hairdressers. I also paid a visit to the local bookshop, I don't read books, I devour them and I had one on order that had arrived. It is always difficult to get an English book in a small Swiss market town, but the ordering system is quite prompt and usually only takes a few days.

The cathederal of St. Urs is ever present in the town and is quite an imposing building.This is a view from the side of the cathederal towards one of the cobbled alleys leading to the River Aare. There are a few church buildings in the alley. I remember my younger son having his choir practice twice a week in one of the buildings many years ago.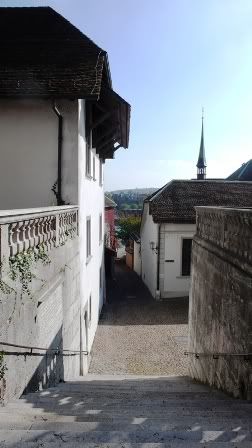 Last week on my visit I noticed that there was a notice on the back door of our cathederal St. Urs showing that the tower was open. If you look at the photo of the back of the cathederal you can see on the left hand side way up the tower railings where some people were standing. I have been living in Solothurn at least 38 years and have never been up the tower. I seem to have spent my childhood and teenager years climbing one tower or another. I was often to be found climbing the monument staircase or finding my way up to St. Pauls whispering gallery from which both gave a really good view over London. So why should a few steps up a church tower in a provincial town in Switzerland be a problem. Basically the only problem is that I am now forty years older and suffer now and again from Meniere's syndrome. I can also not ride a two wheel bike and my sense of balance does not improve with the years.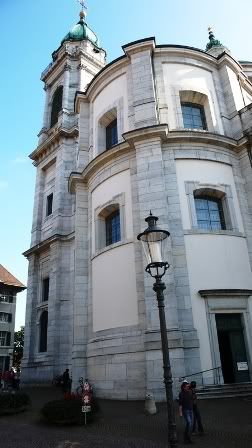 Two weeks ago I just walked past the entrance to the gallery thinking should I or should I not (see door on righthandside). Last Saturday after finishing my errands I decided to take the plunge, with the thought everything that goes up must come down. I had a quick look in the door and saw a harmless stone staircase so decided now or never.




I was quite surprised as the first steps were not so difficult and they even had resting places on the way up (probably for elderly unfit people like me). It was obviously a one way staircase, so if anyone was coming in the opposite direction you had to go to one side. I was very lucky as I always seemed to plan such avoiding manoevres when there was somewhere to go. Unfortunately the stone staircase did not reach to the top and was replaced by wooden stairs.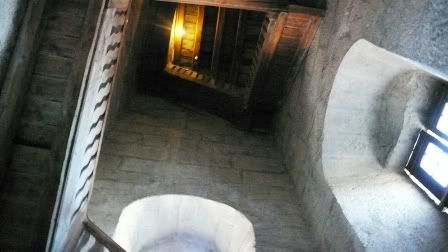 I took this photo looking upwards - doesn't look far but it was. Another thing I noticed was that probably when the stairs were built people had smaller feet. My size 40 did not exactly fit to the width of the stairs and so I developed a sort of sideways walk to avoid any accidents. On the way up the belfry was to be seen. Unfortunately I wasn't prepared to stop on the staircase and take a photo of the three bells. However, there was one bell hanging in a sensible place with a platform at the side, so I managed a photo of it.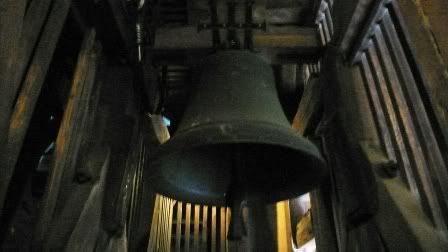 I suddenly noticed fresh air and a slight - bit more than slight - breeze could be felt. There was light and I knew I was nearly there. The last few steps were the worse, a very narrow spiral staircase but eventually I found myself in a room where there were some pamphlets about the church and a gentleman seated at a table in front of the entrance to the outside gallery. He was collecting the entrance fee - three swiss francs per person. With shaking hands I gave him the money and took advantage of one of the many chairs arranged in the room, probably there for people like me. I just had to catch my breath and relax. I think they collected the money only when you were at the top to make sure the survivors paid.

Yes I did take some photos outside - will follow in next blog. The things that I do to write a blog - no, I will not go on a bungy jump, I will leave that up to someone else. As a closing photo there is a view towards the town of Solothurn from the steps of the cathederal.