Our Autumn Fair takes place every year at the end of September, for approximately the last 20 years. Some of the shopowners and business people of the town had the idea to get together to create an exhibition of their goods and the idea became a success. To us Solothurn people it is know as HESO (Herbstmesse Solothurn - Autumn Fair Solothurn). The location is just outside the town walls on a large field and in the ramparts of the one time fortress. It is very big as you can see from the plan. It is not only just an exhibition but a place where you can meet old friends, catch up on what is going on in town and just have fun. As I usually avoid large collections of people, I don't often go, but armed with my camera I decided to have a look around. First of all I took a few photos outside.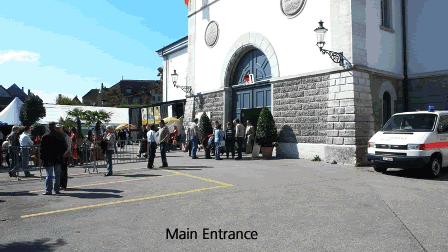 It was a sunny Saturday afternoon when I went so ideal for being outside as well as inside the exhibition halls. As you can see there are a few stalls selling food for adults as well as kids. Traffic is more or less forbidden when the fair is on so it is safe to walk across the roads.

I then entered the hall. I think every shop and business in Solothurn is represented, from the police force to the local radio station. There is also a studio where various local prominent people are invited to a discussion with each other, and where members of the public can also ask questions. Sometimes it might be a local politician, or it could be the director of a local company and once they invited Mr. Swiss, which is about the only time I ever bothered to go. Our local radio station, Radio 32, usually has a carioke competition going through the whole week of the exhibition with a prize of 2,000 swiss francs. My oldest son usually takes part, being a Stones fan, but has never won anything up to now. Here are some photos of what was going on inside.


I have put descriptions on the photos where I found it might be necessary. As you can see just about everything is represented. It looks a bit empty, but I went early in the afternoon. Towards evening it gets quite packed out. In the evening there is usually a dance going on for the youngsters. The place where they were advertising the cat and dog food was quite interesting. They had a lady there from the local dog parlour and she was cutting the dogs hair and trimming it for free. They also had a show for the senior citizens. I had a walk around and one of the women in charged decided to recruit me for information purposes. I told her I had another three years to go, so was not quite ready yet. However, it is always useful to know what lays ahead.

Of course, there was quite a range in connection with household objects. We all have blinds on the windows in Switzerland, and they are getting more colourful and stronger these days. Toilets were also shown. Long ago they were white and all looked alike. These days they are fully automatic and there is nothing really left to do but just sit there. The toilet seems to do the rest.

There were also some exhibits showing ornamentions for the house, or health foods. I particularly liked the wolf and the tiger. They looked quite realistic, but I don't think I would want one in my living room.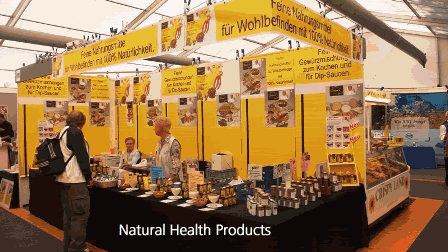 Needless to say I was feeling a bit tired after walking around all afternoon and was glad to get back home again. But there is more to come. I decided to make a separate blog about the food and I then discovered they had an "animal stroking zoo" for the kids, so went back on Sunday afternoon again to buy a special cat comb they were selling and to catch up on the photos of the zoo.