Now what would an Autumn Fair be without food. Our town of Solothurn has enough bakers and cake makers together with various cafés so they were all represented at the exhibition. The apparatus above is known as a chocolate fountain. I wasn't sure what the purpose is but it looked and smelt quite attractive. It was on the booth of the town's biggest cafeteria. The owner is well known for making pralines and the famous Solothurner cake - here is a link.

And here are some of his biscuits and cakes. He isn't cheap, but very good.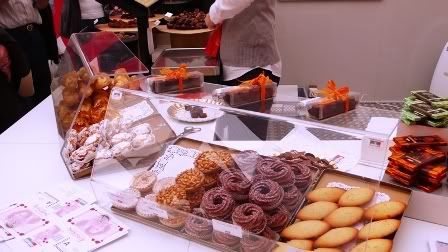 So, after doing some advertising for Mr. Suter's cake shop and restaurant, I will move on to the next part. I wasn't sure what this was, but I am certain they were nice and crispy. If I had my kids with me when they were younger, I am sure it would have been a bit of "mum can I have some".


Of course, some of our restaurant owners decided to open up a branch at the fair. The restaurants are quite well visited during the day and evening (the fair closes at nine in the evening except for the special happenings like dances and radio programmes).



This is the so-called "spaghetteria" so I don't have to explain what the people eat. Needless to say it is served with a large choice of sauce from bolognese to napoli and alla panna.
This restaurant seemed to be more in the Autumn sort of thing, so I am sure there was something on the plate to do with hunting. Not exactly deer steaks, but perhaps what we call "pfeffer" - various meat and poultry marinated in wine and cooked in a rich wine sauce, served with various fruits and veg. Cooked red cabbage with chestnuts is quite popular.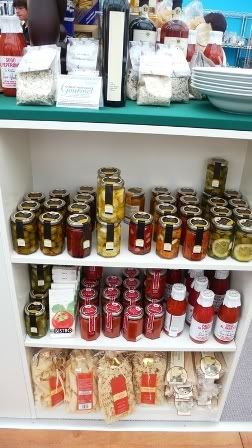 I saw this small arrangement of things to have with your meal as I was passing through. To finalise the culinarial trip through the exhibition, there was a booth with a large choice of various teas. In Switzerland, we do not usually drink black tea with milk as I knew from my England days, but we seem to make tea out of almost anything that grows. Even nettle tea is known (supposed to be good for nursing mothers). So, here is the tea selection.