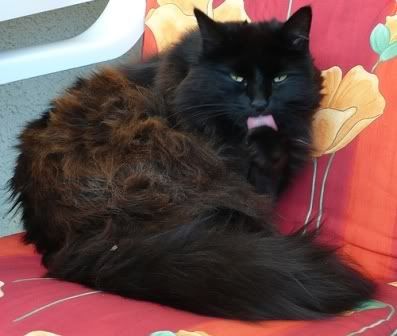 Today was a bit of a stress day. It all started at six in the morning when I arose still half asleep. It rained through the night and we had thunderstorms. I was thinking how lucky my furry monsters were having a roof over their heads and not having to be outside in the rain. First problem – only two feline monsters were at home. Fluffy, being blind, stays in all night. He usually has a meow time about five in the morning as if to say wake up everyone I am on my Todd (I am alone for non-cockneys), but as we are used to it, we manage to ignore him. Tabby was perched on the mini cat tree but as soon as she noticed footsteps in the hall she was up and ready to go at the cat flap. Our big fat black feline boss cat, Nera, was not at home. She was also not perched out on the porch with a half roof over her head, she was nowhere. Having visions of a frightened cat hiding somewhere from the rain and thunder feeling alone and hungry I went to the bathroom with a strange uneasy feeling.

Suddenly I heard my other half welcoming Nera – she had returned to the fold. Was she wet? Hungry? Frightened? – well not really. Her first action was to eat, but that is one of her hobbies – sort of living to eat. She was not wet, and walked through the home flapping her long black tail from side to side as if she owned the place (she does really) so another cat secret remained – where was she?. She gave up boyfriends a long while ago (I think it was after her operation) so we knew she hadn't been seeing strange cats. In the meanwhile Tabby had disappeared to the world outside and Fluffy was glad to have company again.


Eventually I saddled the car and said goodbye to all. I arrived at the office at 07.15 a.m. and it was still raining. Said hello to everyone although no-one really seemed to be in a good mood. My next action was to switch the office computer on. The first thing I saw was Nera having a wash (my current screen saver) so went on to the office 2007 quickly as I had had enough of Nera already for the day. I made myself a coffee to wake myself up and eventually our export team was complete. I then said goodbye again as I had to go up to the hospital to get some info on an examination I have next week. I then had to go to my doctor to pick up my diabetes medicine that I was running out of, and the only good thing was to go to the bank and cash my premium bond win which arrived through the post yesterday.

Afterwards it was back to work where hubby rang me to say he had an appointment at the docs for his lumbago (oh what a life when you get older). I was off again at lunch time to the local supermarket hunting for food and a quick lunch in the self-service restaurant and arrived back in the office at 1.00 p.m. ready to send goods all over the world thinking to myself only another three years and 3 months and a few days and I will be in the happy pension grounds.

Eventually I arrived home safe and sound. Fluffy was at home, Tabby was just getting ready to go out after a day's sleep and Nera was sleeping outside on one of the chairs. Actually when I come to think of it, Nera actually lives outside and only comes home for food. Hubby was busy at the computer so I got something ready to eat. In the meanwhile the kitchen was turning into a feline Piccadilly circus with cats coming in and out hoping perhaps for a weekly dose of tuna fish – no luck that is programmed for Wednesdays. Now things have settled down and here I am sitting at the computer typing a blog. I think it will be an evening with a book. Have just finished Grapes of Wrath by John Steinbeck and have started Sterben (Dying) by Arthur Schnitzer. Not exactly something to cheer you up, but it is short and sweet.

In the meanwhile Nera and Tabby have disappeared, but we expect them back at around midnight for a midnight supper.