I have a friend that I have known for many years. When we met she was working in our office and was engaged to the son of a farming family. Over the years she got married, took over the farm and now about 25 years later she has a family of 7 children (5 daughters and 2 sons), the youngest daughter now around 8 years old. They have quite a large farm in a nearbye village at the foot of the Jura mountain chain. I still have contact and now and again pay a visit to catch up on the latest developments of the farm. Here a few photos of the surroundings of the farm.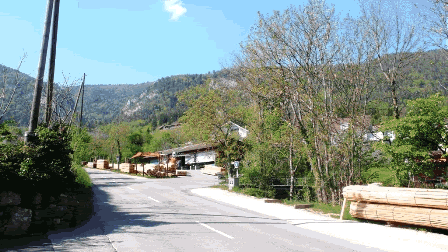 It is difficult to know where to begin, but they all live in a very large farmhouse and the cats are kept in the house. There are a few wilder cats living on the farm which are cared for and fed. They are important for keeping the mouse population under control. The cats in the farmhouse are Persians and the kittens are sold to interested customers.


The amount of mother cats changes, but at the moment it seems she has four female cats. There is one man in the house, Diego. He was the product of a mating session a year ago and was kept (for an obvious purpose). He will become a father for the first time in May. Up to now the ladies have been sent on various visits to other male cats. At the moment there are two litters in the house. One about six weeks old and the other 4 weeks old.

The large white cat, Melody, is one of the mothers of the kitttens. The larger black and white Persian cat is Diego, the father-to-be (or many kittens is hoped - what a life!). The kittens are still very young and still have their blue eyes. During my visit I was surprised how they managed to move around in the rooms without someone falling over them. I made a couple of small videos.
As a cat lover I was naturally fascinated by so many sweet little felines in one place.


A farm is not a farm without a dog, and in this case there are basically two dogs. Buddy is the sheepdog, although there are no sheep. Buddy usually spends his time outside on a chain keeping watch. although now and again he is let free. He is not the sort of dog to give a pat on the head with remarks like nice doggy etc. etc. He is a watchdog and very good at his job. At the moment he has a special work to do. There are foxes around at night and he patrols outside to make sure that nothing happens. Only last week a couple of kid goats were killed. Here is a photo I took of Buddy. I did not go as near as the photo seems, I managed to zoom in.
The other dog is Bessie. Bessie has now grown up and last year she discovered her maternal feelings. The children of the family took pity and took her for a walk to a nearbye farm where they knew there was an Appenzeller dog that was probably willing. The result was 9 sweet little puppies who found good homes. This year Bessie was again willing and paid a visit to a golden retriever. The result - 11 babies as follows.




The babies opened their eyes for the first time last week - here is a film of them when they were a day old with their mother.
That would be the animals kept in the farmhouse. I would just add another interesting animal that my friend likes to have on the farm. She has Star tortoises. As they are a tropical kind, they do not hibernate in Winter. In the warmer weather they are outside in a large compound and in Winter inside. She also has normal tortoises which are in a separate compound outside. During the Winter they sleep in an old refrigerator. They have also been known to lay eggs. A year or so ago I was on a visit and was able to see the little toroises that had just hatched. They lived in a glass aquarium with a special light to keep a good temperature.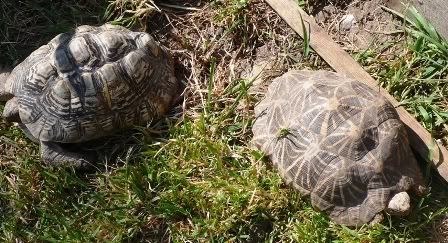 I nearly forgot this little fella. He is a Shitzu dog belong to one of my friend's daughters. She lives in the farmhouse but has her own flat on the ground floor.
Just to finishe this tour, a photo of the farm water supply of olden days. Each farm seems to have its own water trough in Switzerland. Useful for a quick hand wash or cleaning the wellies.
My friend as her own web site. A few photos were borrowed, but the rest I took myself on my visit yesterday. You can find her link in my list.