When I moved in we just had a lawn. After living in a town appartment for so many years it was nice to have a garden. The local supermarket was running a special offer of young apple trees, so it was my first buy. It was then only a small seedling some 10 years ago, although it did blossom the first spring, but there were no apples. Gardening is a job that needs a lot of patience so I decided to wait. I had to wait at least five years and then I had my first five apples in Autumn. Although only five we enjoyed every bite coming from our own apple tree.
As the years went past the tree bore more and more apples some years more and others less, according to how the Spring weather was. If it was a rainy windy April-May then the flowers and buds quickly fell off the tree and there were not many apples. Another piece of luck I had was that around the corner one of the neighbours had a tree in the garden, so if coincidence happened the bee would find his way over to our tree from the other tree and do his pollination work. An apple tree cannot pollinate itself, it has to have another tree nearby, and one which flowers at the same time. I found all this out after I had got my tree and started reading books about apple trees. This year seems to be quite a good apple year as the flowers above stayed on the tree and now I have things looking like the pictures below on my tree.

Everything going well, it looks like we are going to have a fruity year this year. The apples are the sort Fiorina, nice and red and juicy. I decided that one tree should not be alone, so planted a few pips from a Gala apple in a pot about 3 years ago. I was lucky and they started growing, They have now been in the garden 2 years and if the greenfly and ants do not get them first they may grow to be big like the tree I already have.
I also read that the vermouth plant is a good protection against the codling moth (an enemy of the apple trees) so bought some seeds which grew quite well. They grew so well that I had to start cutting the plant down as we could not see the apple tree any more. For those who may not know, if you are clever enough you can make quite a potent glass of gin from the vermouth plant.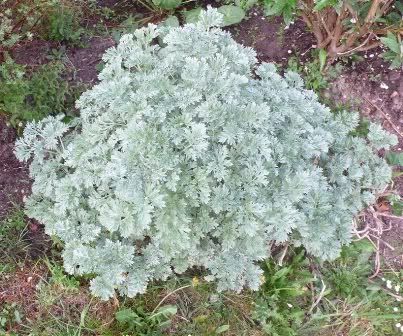 The Vermouth Plant
And that is the story of me and my apple tree. At the moment it is doing well, although the ants have already started to transport their aphids up to the top of the tree to build a few colonies. I usually attack with a strong jet of water from the hose, or have a go manually which means that I tend to walk around with green fingers afterwards.