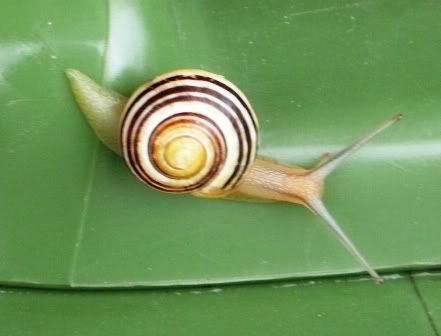 I think the little fellow above was the only one satisfied with the weather today. I found him taking a walk on the lid of my garden disposal container. Not that I want to complain – I still have 15 week days of my holiday to go, and it only really rained once today.

So what do you do when it is raining. You first of all clean the place up and hoover away the remnants of Sunday evening in front of the tv. Crisps (potato chips for our American friends) do tend to make a mess on the carpet. It was then time again to go hunting. We drove out of our underground car park and got to the main road. Hubby was driving but drew my attention to the lamp posts along the road. On 3 of them there was a stork perched on top. Driving at the speed we had, it was not possible to take a photo. Hubby said something about it being dangerous to drive slowly with cars behind etc. etc. I suppose he was right so another chance to become photographer of the year had disappeared. We have a stork colony nearby and the birds often take a flight over now and again to stretch their wings.

We killed a few pork steaks and got some veg in the local food farm (the supermarket) and made our way home again. It was just not worth while going anywhere and doing anything. Athough it had eventually stopped raining everything was dismal, wet and unfriendly.

We then got onto the main road again (just a 5 minute drive) and approached the lamp posts with the storks, not expecting to find any storks waiting for me to drive past once again – and what did I see, one stork perched on a lamp post. Wittering the chance of being honoured for stork photo of the year, and our home being within range of sight, I made the suggestion to hubby to stop the car and let me out.

With some warnings about being careful and watching for the traffic he stopped the car and I climbed out armed with my camera. I walked back to the main road and the stork was still waiting for me. He made a few poses for me and eventually flew off.

My attempt to catch a photo of a stork in flight was not really worthy a place in "Profesional Photographer", but it is not easy to photograph a bird in full flight. Unfortunately he did not hover for me to get a clear picture. Nevertheless I walked home tired but happy with my photos.
It has now stopped raining so a visit to the optician and bank is on the programme this afternoon.