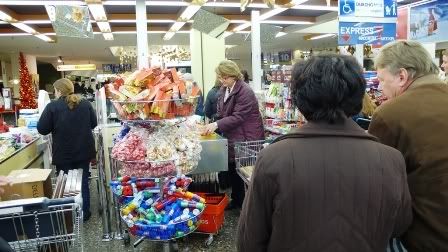 Yes, today was one of those super shopping days where we were all rewarded by the supermarket chain "Migros" in Switzerland which can be compared to Sainsburys, Asda, or my dad's favourite Morrisons in England. If you are equipped with a "cumulus" card every time you buy something it is drawn through some sort of infra red light and you get points. Once a month you get vouchers for 1% of what you have paid. At the same time Mr. Migros knows what his shoppers are buying and can aim at them with more confidence. Basically I don't really care if Mr. Migros knows what I buy, as long it is on the shelf when I get there.

Now and again Migros decide to reward their faithfull shoppers and we have a special day where more percent is given - today it was 10%, and so everyone flocks to Migros on that day to spend ten times more than normal. Basically they are the days when I would like to avoid Migros and do my shopping elsewhere. However, tied down by the lunch hour, which is really only an hour and the spacious car park the Migros have, I don't have a big choice during the week. I also eat my lunch in the store's restaurant.

Today I went to lunch 20 minutes earlier which really was a good idea. As I was walking in the shoppers were walking out. The restaurant also had enough space and I started my shopping attack just after twelve, being able to finish it towards one. I took the photo at the till whilst I was waiting for my turn to come. My son worked in this store for 4-5 years whilst he was studying at the university to earn some money to pay his way. He used to go on Saturdays and holidays. He just loved those special days, but he did say at least the time went quickly. His favourite customers were the nice little children who had already started eating their chocolates and icecream before they got to the till. I don't blame him really. The latest hit in the supermarkets are mini trolleys for the children. If it is not bad enough to have to go shopping, the children are really encouraged to start practicing at a young age. The proud mothers give their offspring the trolleys and the shopping is put in them. Needless to say on days such as today you have to be careful that you don't fall over one - the children are not so good at steering as the adults. There are also large posters showing that the children's shopping trolleys are not fitted with brakes.

And now I am looking forward to a relaxing week-end. It seems to me there is always more stress at Christmas. Yesterday evening we had our small Christmas party at the 1st aid group of the local village, of which I am accountant and webmaster. Accountant because I am the only one that knows how to operate a computer. I didn't have a clue about bookkeeping but the girl I took it over from said I would soon get the hand of it. I have, but I am still not the bookkeeper type. The web thing was my idea and I am still not sure if it was a good one. I can only do a basic site, nothing complicated, but it does for a local "Samariterverein" (sort of St. John's Ambulance). Anyhow we all met in the club house of the local village football team which is equipped with a small kitchen. Our boss lady has a farm, and it is custom that she always makes a pumpkin soup for the evening meal. It is really good and we eat our "Griti Banz" (see photo below) with it. The Griti Banz is a bread pastry formed in the shape of a man and is custom to be eaten on 6th December (not that I want to show off, but in this country it is a childrens festival day with presents from the Father Christmas, and ..... also my birthday). So after the soup and bread, we got down to eating the chocolates, peanuts and tangerines that were also on the tables. I can't remember how many bottles of wine we got through (although I don't drink - especially when I have to drive through the Swiss countryside at 11.30 in the evening to go home). Being the accountant I had a lot of cash with me that I payed out to various people that had done service through the year. Attending local football tournaments, the local agricultural college open day and measuring blood pressure for the village population twice a month. We used to help at the local blood donation sessions, but due to less and less donators it is no longer carried out in our village.

Knowing that this was the last time we would meet this year we all said goodbye and wished each other a happy Christmas and New Year. Actually this is the time when I have a lot to do for the financial side. We invite the village population to donate by post and then the donations start coming in, meaning I have to keep up with the bookings nearly every evening, otherwise I would quickly get behind. It is nice to see how the villages respond and give their donations. The work we do is basically voluntary and if we received any payment it is more symbolic. At the beginning of January I have to do the annual balance which is also quite time-comsuming.