This photo shows the main station in Bern. We have a local train which runs from our town of Solothurn to Bern once an hour. It is quite a good connection, the train going through the small Bernese villages until it eventually goes into a tunnel for a few minutes, something like the London underground and arrives in the station at Bern. Bern is about 40 kilometers South of Solothurn – about 50 minutes taking into account the stops at the station. By road on the motorway it takes around 30 minutes.

Bern is the ideal town for shopping when it is raining. The main road has no open pavement as there is a system of arches down to the bottom, so no-one gets wet. Even the cellars are used as shops meaning you have to go down the stairs to get into the premises. The main street of Bern is closed to traffic and only available for trams and busses.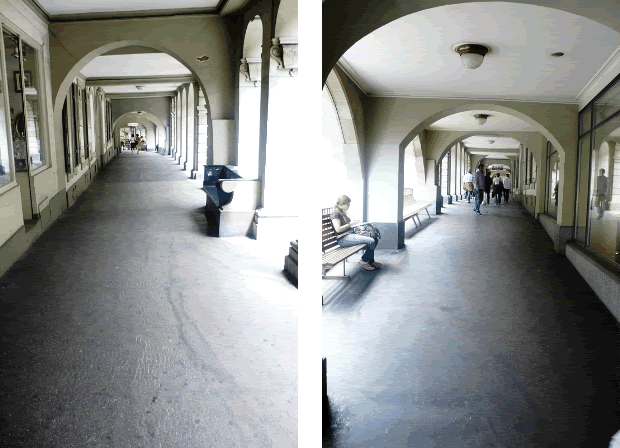 The buildings are very picturesque and are not allowed to be altered. Apart from the usual stores, Bern has a lot of smaller shops dealing in antiques, art, books etc. and of course the cafés with their selection of cakes which resemble more works of art.
The river Aare flows through Bern where it makes a "U" turn, so it is to be found right and left of the main road. Bern is also the capital city of Switzerland and the Bundeshaus (houses of parliament) is one of the attractions. I found at the moment that it resembles an art work from Christo as it is packed in cloth over the scaffolding. At the moment it is being renovated. I think it is one of the few parliament buildings that attracts children in Summer. In front of the parliament building water spouts have been fitted into the pavement and when I arrived I was surprised to see children of all ages in their bathing clothes enjoying the water.

If you look up on most of the buildings there are ornaments which belong to the various guilds of Bern as in the following photos.


The streets in Summer are full of tourists from all over the world. It is one of my favourite towns to visit. It does not seem to have the stress of most big cities and everything is so well planned. Before leaving Bern I made my usual visit to the book shop, one of the best I have ever found. Besides having a good collection of English books (at the moment Harry Potter seems to be the star) they also have a cafeteria in the shop where you can relax with a cup of coffee.

Eventually I made my way to the "underground" station to catch the train back to Solothurn. Of course Bern has a large station for trains all over Europe, but we Solothurner are satisfied with our "Bern Bähnli"