My family and I lived in this house on the first floor for twenty years. Our flat was on the corner and the large balcony also belonged to it, to be seen on the righthand side of the building above the green windows. There were six of us – four children and two adults. The house was built in 1930 in the old solid style. We have 4 bedrooms a large entrance hall which was used as our "dining room" and an enormous kitchen big enough to eat comfortably, but there were no "mod cons". Water came from a boiler in the kitchen and the bathroom was a gas heater. The bath stood on four small legs (with a nice curtain that we fitted to go around it) and cooking was done by gas. All electric parts and gas tubes were over the walls, the advantage being if anything went wrong you knew where to look.

A big advantage was that the place was built fairly solid. There was a shop downstairs and our kids could make as much noise as they wanted to – no-one really heard it. We had a piano which I often played and one of my sons took up flute. We listened to a lot of music and had a few family get togethers with no problem. It was the perfect place for a larger family – we could just be ourselves.

We were situated just near the railway station of our town and were in five minutes distance from the local market and shops. Just across the street in front of our bulding was the River Aar which flowed through our town. At the time when we lived there we did not have a direct connection to the motorway Zürich-Bern-Geneva and all the traffic coming from North had to go past our building over the nearbye Röti Bridge. We had a wonderful view from our window of the river as well as this bridge. I always knew when hubby was on his way home as I saw his car waiting at the traffic lights before he arrived. A train also rain on lines over the bridge to the local railway station (I blogged once showing the train see link )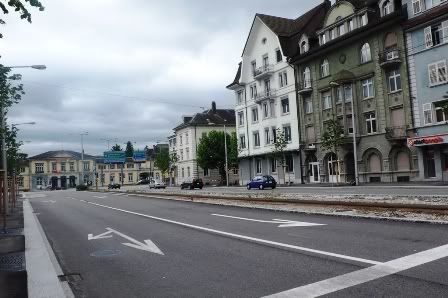 Eventually progress came to our part of the world and it was decided that our street would be re-constructed. This meant that a good half of the buildings were to be demolished and rebuilt. Our house was to remain, but it was decided that it would also be renovated. We had always had a reasonable rent, but realised that the time was coming when we were going to be modernised, like it or not, and would pay more. Under these circumstance we decided it was time to go. The children were finding their own way in life and the advatages of the flat were becoming slowly disadvantages. In the meanwhile work was being carried out on a better connection to the motorway which would positively influence the amount of traffic passing bye, but in spite of this we started looking around for something else, preferably in the country. Long story cut short, we found an ideal village just a kilometer down the road where a new area was being built. We found what we were looking for and bought our own home. The children had left or were leaving home so we were happy.

This was the view we had from our window before the building started.
And this is the view today
Now and again I take a walk into the local town of Solothurn, but not so often to the part where we lived. It is being newly developed. The new buildings in our street were built a few years ago, but more has happened. A "seminar" hotel now stands opposite our old building for business lunches and meetings and to accommodate the businessmen staying overnight in our town. Although the traffic has been reduced it was decided that the good old Röti bridge was getting too weak for its job and is now in the middle of being rebuilt.


It all started a couple of years ago as building a bridge does take time. First of all a second provisional bridge had to be built to take over from the old bridge which was demolished, this not being a very easy job as the railway lines also had to be taken into consideration. Driving from North to South in the town became a long journey as there was only one lane of traffic in each direction instead of two and the traffic lights seemed to change a lot more. Another interference was the building of the "Seminar" hotel. I mean if you are going to build something, then it is much better to do it all at once. That was probably the reason why the chief planners of the town decided it was time to build a new bridge further down the River to get the traffic even quicker onto the motorway. As this new bridge also had to have connections and the bridge that was being rebuilt also lacked in this sense, the complete road system in the town and surroundings is also being done – Since they rebuilt the Potsdam Platz in Berlin we are no longer the second biggest building site in Europe, but probably the first.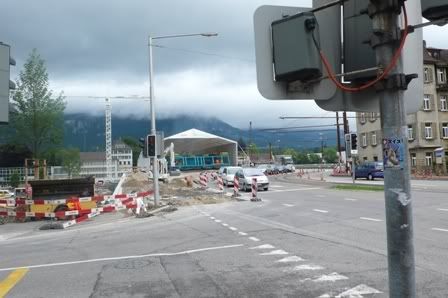 Some of you may have seen that I had some problems with my "blogging" shoulder (as a fellow blogger Sean mentioned) and I have had to go to the chiropractice to get things going again. This practice happens to find itself a stones throw from where we used to live. Hubby drove me and picked me up afterwards, so I had some time to kill with my camera which I always have with me these days and I naturally took a few pictures of what was going on.

These pictures are almost picturesque, taking from the other side of the bridge where the supports can be seen of the provisional bridge looking through the trees on the banks on the river .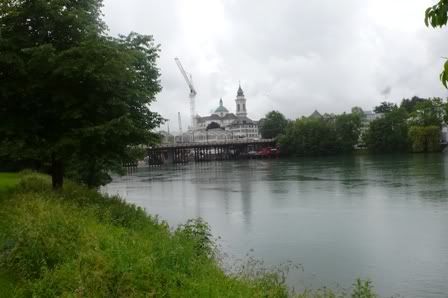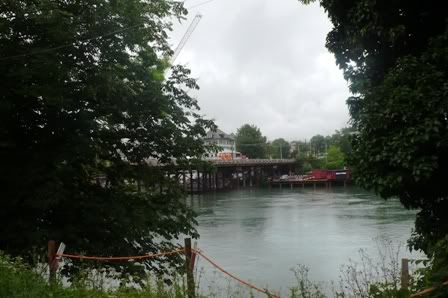 And here is a slide show showing how to build a bridge




Now I am sure everyone is wondering what the new bridge in the town of Solothurn will look like - well so are we all in Solothurn as well. This photo probably gives a good idea. It will not be one of those quaint old wooden covered bridges that one find so often in Switzerland (such as in Luzern which burnt down a couple of years ago, but has now been rebuilt in the meanwhile for the tourists). The covers which resemble a sort of white giant sized sheet will probably be ceremonially removed when the bridge is finished. Solothurn does not do very much for the tourists, mainly for the business men and creating objects to keep the town planners busy and to make sure that our tax money is used up in a sensible way.


Here is a first preview of the bridge